President Ruto's Vision of Affordable Housing Projects Taking Shape in Kenya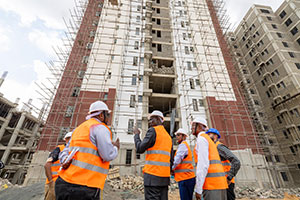 As the Kenya Kwanza Government's affordable housing initiatives take shape, over 40,000 housing units are ready for ground-breaking. President William Ruto stated that housing is a transformational goal that will have a significant economic impact.
During the Mashujaa celebrations, he stated that the building of 46,792 units is currently in progress, and additional 40,000 units are set to begin construction. A single housing unit generates approximately 3 and 5 employment opportunities and 5 to 8 indirect jobs. The standardized operation of the Jua kali clusters, which would manufacture items such as doors, windows, and hinges for programs, will create more jobs, according to Ruto.
He also stated that the initiative will boost economic activity in a variety of sectors by increasing the production of building products and materials. This transformative construction housing firm will employ architects, engineers, quantity surveyors, masons, steel factory workers, cement factory workers, electricians, plumbers, transporters and hardware merchants, according to Ruto.
The Government committed Sh35.2 billion to the Housing program in the fiscal year 2023-24. The government has also committed resources to the creation of inexpensive and affordable social housing units. Sh3.2 billion will be allocated to the affordable housing initiative as part of the housing budget. The President's overall goal is to build 200,000 affordable housing units every year.
President Ruto's planned initiative of 200 affordable housing units per constituency has already been implemented by the government. The Head of State declared in June that 178 of the 290 subcounties were officially given the go-ahead to build the units. Housing Principal Secretary Charles Hinga stated that land for the affordable housing initiative is available in all 290 constituencies.
In total, 220 housing units will be built in Vihiga County on a two-acre plot of land held by the government at the Milimani estate. Padaa Enterprises was given the contract for the project's construction for Sh536 million. The 220 flats will be built on a 10-acre plot of land in Bahati, Nakuru County, at a cost of Sh505 million. The project will include the renovation of roads leading to the site, as well as the connection of power and the expansion of sewer and water lines from the current network.
A similar effort to construct 220 units was undertaken in Lurambi, Kakamega County. Top Choice Surveillance Limited, the project's developer, partnered with Kakamega Engineering and Fabricators Association and KEFINCO Carpenters Association, all of which have over 100 talented artisans. The developer is scheduled to set aside Sh26 million for the project's approximately 1,200 doors and 1,200 windows. In Gichugu, Kirinyaga County, Ruto also presided over the groundbreaking ceremony for 110 housing units.
Posted on : 15 Nov,2023
Buildmart is Africa's leading directory and market news website for the building and construction industry | Kenya | Tanzania | Rwanda | Ethiopia