Tanzanian business leaders converge in Dar es Salaam this week for the International Trade Expo 2022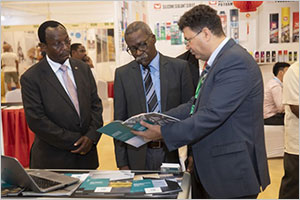 The 23rd Buildexpo Tanzania will open next week for the business community in Dar es Salaam. The event will be graced by Mr.Ridhiwani J.Kikwete - Deputy Minister for Lands,Housing and Human Settlements Development, Government of Tanzania. The international trade exhibition brings together the leaders of the East African construction industry by becoming a leading source for new products, services and technology from around the world. Reputed to be largest and longest running event in East Africa of its kind, the show dedicated to the building and construction industry will be held from 24th to 26th March, 2022 in Dar es Salaam, Tanzania, at the famed Diamond Jubilee Hall. The event is open for visiting from 10:00 AM to 6:00 PM during the exhibition days. Ambassadors, trade delegations and representatives from various countries and ministries are confirmed to be present to meet and support the companies representing their countries. Some of the dignitaries expected at the event include Ambassador of The Republic of Korea, Hon'ble Mr. Sun Pyo Kim, Mr. Raj Kumar Ganger, Second Secretary (Com.), The High Commission Of India, Mr. Ken Walsh, Senior Commercial Counselor, Embassy of The United States, Mr. C. Masocha, Counsellor, The Embassy of Zimbabwe, Ambassador of Palestine, Hon'ble Mr. Hamdi Mansour Abuali, Ambassador of Zimbabwe, Hon'ble Lt. Gen. (Rtd) A.N. Sanyatwe, High Commissioner of Mozambique, Hon'ble Mr. Ricardo Mtumbuida, Mr. Ipyana Moses, Executive Secretary, Executive Secretary, The Institution Of Engineers Tanzania (IET), Dr. Fred M. Msemwa, Chief Executive Officer, Watumishi Housing Company, Ms. Philomena Tesha, Chief Executive Officer, Tanso Investment Limited, Ms. Latifa A. Kigoda, Communication Officer, Tanzania Investment Centre, Dr. Maduhu I. Kazi, Executive Director, Tanzania Investment Centre.
The visitors are expected to include top industry professionals such as builders, developers, architects, consultants, engineers, manufacturers, importers & distributors. In terms of exhibitors, the event will showcase a wide range of products and equipment also this year since there has been a special focus on the mining, lighting, wood, glass, roofing and water industry.
Companies from over 30 different countries are scheduled to participate in the Tanzanian edition including major players from the East African region. Countries represented include India, Poland, Russia, Pakistan, Turkey, Egypt, Germany, Switzerland, UAE, Saudi Arabia, Tunisia, Uganda, China, South Africa, Spain, Italy and Australia. Several leading international brands are looking to build a solid foundation in the East African market. A few key mentions include Polyplast, Meta Plant & Equipment – JCB and Schwing Setter, Demir Safety, Talpa Mining, RNE Pumps, Liebherr, Lazure Lighting, Profholod, Jindal India, and many more.
The international trade exhibition has been projected as the ideal forum for international companies to showcase their products and services to the huge business community. Tanzania itself remains a key and exciting country for investors willing to explore the opportunities and make inroads into this lucrative market
Posted on : 18 Mar,2022
Buildmart is Africa's leading directory and market news website for the building and construction industry | Kenya | Tanzania | Rwanda | Ethiopia